10/15/20
During Hasbro Pulsecon it was revealed that the Autobot Clones would be released in a two pack as part of the "Galactic Odyssey" campaign of exclusives on Amazon.com.  These figures have been released before, but this is the first time they have been bundled together outside of Japan.  Also, Hasbro pointed out that this set features a new deco influenced by their animated appearance.
You can pre-order via this affiliate link (and help support BWTF).  This set is priced at $24.99 and is due for release on December 1, 2020.  Check out the official images and product descriptions below!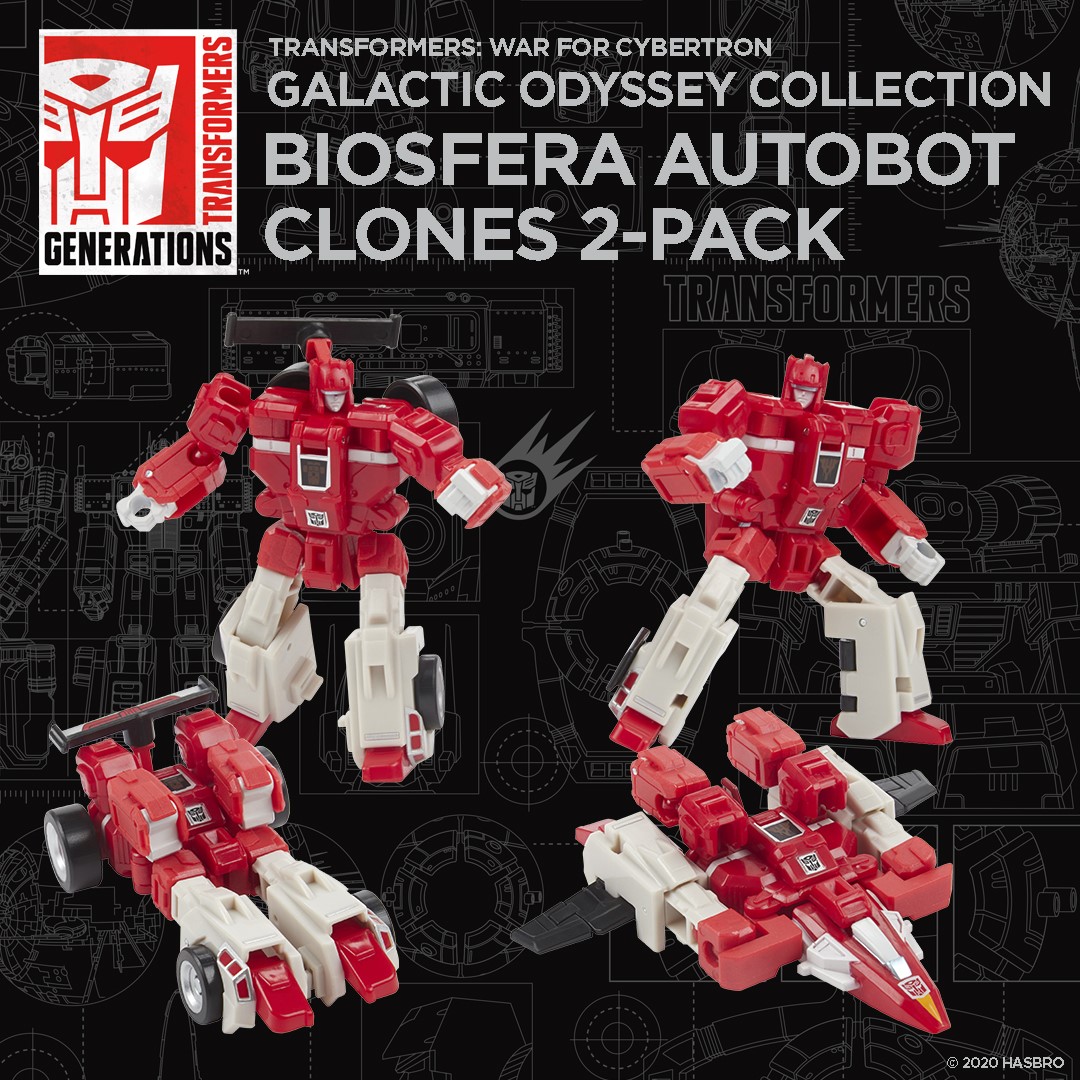 ENCOUNTER 3: BIOSFERA CLONES (GALACTIC ODYSSEY)
As the Autobots and Decepticons speed through space in pursuit of the Allspark, special side missions take some of their members off course. Their duties lead them to unfamiliar planets where they encounter epic adventures and unknown dangers. Now fans can come along for the journey and explore the Transformers universe through the Galactic Odyssey Collection.
GALACTIC ODYSSEY COLLECTION: In top secret side missions during the events of Earthrise, Autobots and Decepticons encounter unfamiliar planets, find epic adventure, and face unknown dangers. Now fans can come along for the journey and explore the Transformers universe through the Galactic Odyssey Collection

ENCOUNTER 3 - BIOSFERA CLONES: Autobot Clones Fastlane and Cloudraker are sent to a planet called Biosfera to search for Energon, but are soon pursued by the Decepticon Clones, Wingspan and Pounce (WFC-E30 Decepticon Clones sold separately, subject to availability). It's time for a clone showdown in this Biosfera Clones pack!

DISCOVER BIOSFERA WITH PLANET CARD: Pack includes 1 of 5 planet cards with key details about the featured planets. Collect other Galactic Odyssey figures to explore more planets in the Transformers universe! (Each sold separately. Subject to availability)

CLASSIC CLONE CONVERSION: Autobot Fastlane toy converts into racecar mode and Cloudraker toy converts into jet mode, but feature twin robot modes