03/18/21
Bah-weep-graaaaagnah wheep nini bong!
Get a first look at the next bot joining the Earth Wars!
Trial & Error
Take part in this SUPER XP event and win:
Up to 15 Premium C.O.M.B.A.T. Chips
Up to 125,000 C.O.M.B.A.T Spark
Up to 1,000 4-Stars Shards
Up to 4,000 3-Stars Shards
Up to 100,000 Spark
Up to the challenge? Go for the extra mile and unlock Total Spark Crystals and Power Core Chips from the harder tiers!
Event Type: Alliance
Start Date: 19/03/2021 10:00 UTC
End Date: 22/03/2021 10:00 UTC
Bot Experience: SUPER XP
Prestige: 1
Total Battle Points: 400,000
Event Battle Zones
Totaliser Prizes
Each Total Spark Crystal contains a chance to win:
Snapdragon
The next bot to join the Earth Wars will be mercenary Snapdragon! Here is a work in progress artwork of his appearance:
5-Star Bot Poll Thanks to everyone who voted in our community poll. We've counted the votes and the winners are Swoop & Scourge!
They'll be included in the next batch of 5-Star Bots alongside:
Impactor
Rook & Blot
Seaspray & Octopunch
Bumblebee & Skrapnel
Bug Fixes & Improvements
The following bug fixes and improvements will go live on Thursday 18th March: We have optimised the visual effects attached to HQ17.5 defences. This should improve crashes occurring on devices with limited RAM capacity.
Community Content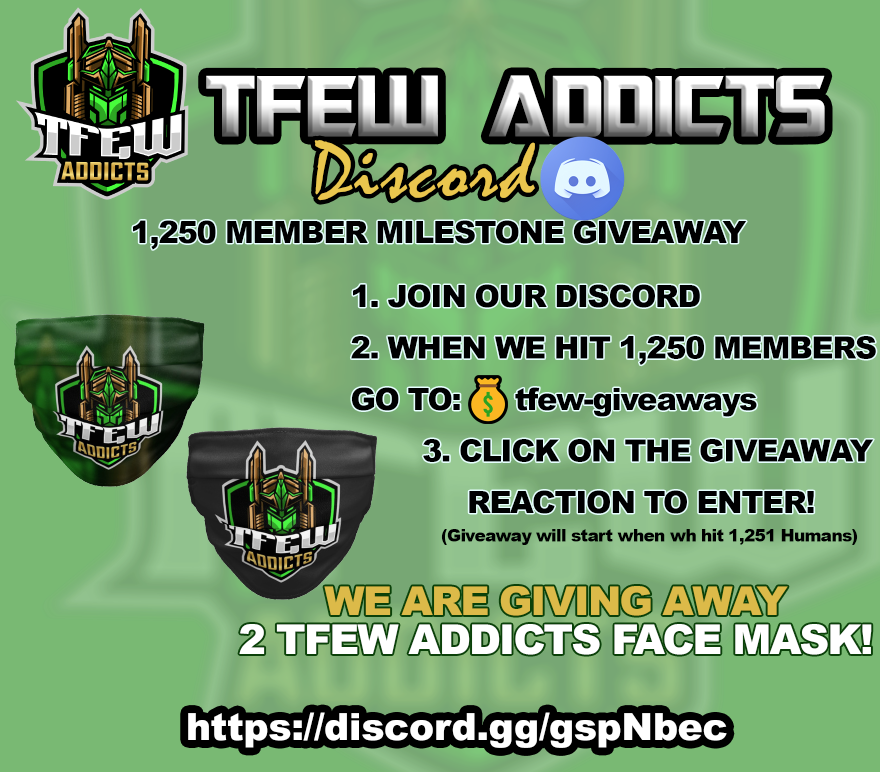 Join the TFEW Addicts Discord server for your chance to win a face mask!
Twitch
Join us as we talk about game improvements, new features, upcoming bots and more. We're LIVE on Thursday 18th March 17:00 UTC
Follow us on Twitch