11/05/21
General Information:
Release Date: January 2019
Price Point: $14.99 (Varies by retailer)
Retailer: General Release (Target, Walmart, Amazon etc.)
Accessories: None
*Images and text below from Amazon.com:
Picture this: me, on Earth, still cooler than everyone this side of Optimus Prime, but I've got zero memories. Now I'm on a mission to recover my memories and discover all of my awesome powers. I'll have to battle Decepticons, outrun an explosion or two, and be heroic- basically, I'm in for one epic ride across the Cyberverse." --Bumblebee Easily convert and attack with Transformers Cyberverse Action Attackers toys! Simply convert Soundwave from vehicle to robot mode in 9 steps. The last step of conversion activates Soundwave figure's Laserbeak Blast Action Attack move! Once converted, move can be repeated through easy reactivation steps. Kids can collect other Action Attackers figures, each sold separately, to discover the signature attack moves of favorite characters from the Cyberverse series -- one of the best ways to introduce young kids and new fans to the exciting world of Transformers! Transformers and all related characters are trademarks of Hasbro.
5.4-INCH SOUNDWAVE FIGURE: 5.4-inch Warrior Class Soundwave Action Attackers figure inspired by the Cyberverse animated series. Makes a great gift.
SIGNATURE SOUNDWAVE ATTACK MOVE Convert the evil Decepticon Soundwave to activate Laserbeak Blast Action Attack move. Fun attack move can be repeated through easy reactivation steps.
2-IN-1 TOY: Easy conversion for kids ages 6 and up! Simply convert Soundwave figure from robot to car mode in 9 steps. Please note that since Transformers toys are made for children, some parts are designed to detach if play gets too rough
G1-INSPIRED CLASSIC CYBERVERSE CHARACTER: Classic blue Soundwave robot toy inspired by the calculating spy from the Transformers Cyberverse cartoon, as seen on Cartoon Network and YouTube.
TV-SHOW-INSPIRED: Transformers robots are giant battling bots from the planet Cybertron. The Autobots and Decepticons traveled from Cybertron on their spaceships, the Ark and the Nemesis, in pursuit of the powerful Allspark.
In late 2017 it was revealed that a new Transformers cartoon would be replacing "Robots in Disguise". The series focuses on Bumblebee with partial amnesia attempting to regain his memories. A blend of G1 and modern characters combined with a more kid-friendly animation style results in a show that leans more towards a younger audience than even "Robots in Disguise", something which is reflected in the toy line. "Cyberverse" first started showing up at retail around late 2018 and continued into 2019.
Soundwave is one of the most iconic Transformers characters from the G1 era. Even casual fans will vaguely remember "that guy who turned into a tape player" so it was no surprise that the G1 inspired "Cyberverse" series would include Soundwave in the line. This Warrior Class figure is based on the character's appearance in the TV show with some modifications to make it a functional action figure.
Packaging:
Warrior Class "Cyberverse" figures are packaged on bubble cards. The cards have a new design which takes cues from more recent Transformers packaging. There is still a vertical "Transformers" logo on the right side, above it is a symbol (Autobot or Decepticon based on the character) and the character art is at the top of the packaging with the "Cyberverse" logo under it. Perhaps the most distinctive part of the packaging design are the colors, which utilize yellow and light blue helping them stand out against the black and red colors used for "Generations" packaging on shelves. The back of the packaging features the figure with its action feature called out. In Soundwave's case he has a "Laerbeak Blast" feature. The packaging also calls out his cosells (Prowl, Bumblebee and Hot Rod) and his transformation is listed as having 9 steps.
The insert on the packaging notes a recommended age of "6+" which is important to keep in mind with this Class of figure. Contrast that with a "Generations" Deluxe (such as Jazz or Sunstreaker) which have recommended ages of 8+. This age recommendation is more along the lines of "Robots in Disguise" Legion Class figures such as Bisk.
Robot Mode:
"Cyberverse" Soundwave has a lot of the iconic Soundwave design elements. This includes a head design shaped like the classic Decepticon symbol complete with a crest that comes to a point above the eyes and a mouthplate. He also has a "shoulder cannon" (really mounted on top of the back piece) and his famous "tape deck/chest" panel which can open up for him to "eject" his "cassette" warriors. He even has "button" like details sculpted into the mid-body area. He also has a very blocky shape, calling back to his G1 origins.
All that said, the "Cyberverse" Soundwave animation model has many design embellishments that are unique to this design. This figure has a lot of those design elements including:
The section with the cannon on it has a small radar dish. Here it winds up behind the robot head, but on the show it was near the left shoulder.
Each shoulder has a sculpted panel that features lines that look like they are from a visual representation of a sound file.
The forearms have designs on them that look like control buttons or possibly speakers.
Several of the line details on the thighs also come right from the animation model (but they are unpainted so you need to look carefully to see them).
From a sculpting/design standpoint I really love how much this figure pays homage to G1 Soundwave while doing its own thing. It also has some bulk, making Soundwave look quite formidable!
From a deco standpoint, this figure takes the animation model as an inspiration but then goes off in its own direction. The figure is cast in blue, light grey, black and translucent pink plastic. The blue and grey plastic make up most of the figure. with black used on small parts like the vehicle mode wheels (which can be seen in this mode near the shoulders and on the lower legs). The Laserbeak figure inside Soundwave's chest is translucent pink plastic (possibly a callback to the color of Energon in G1). The beak is painted silver.
From a deco standpoint, Soundwave has just enough not to look plain. Gunmetal grey is used on the head and shoulders. Red is used to paint the shoulder cannon and head. Black is found on the feet. His chest panel has copper details on it with a tampographed Decepticon symbol in the center (very classic). The "buttons" on his mid-body are also painted copper. Unfortunately that's it for Soundwave's deco, and that is a shame because there are some very nicely sculpted details on the forearms that kind of get lost visually in the light grey plastic. I wish they had been painted or filled in with a wash to help them pop more.
There are eight points of articulation on this figure. This includes two on each arm and leg. The shoulder and hip joints are ball joints, allowing for a good range of motion. That said, I am really surprised they did not include head articulation. Giving him articulation would not have interfered with the transformation at all but nope, his head is stuck looking forward. Soundwave's "Laserbeak Blast" gimmick is exactly what it sounds like. Turn the shoulder cannon piece a tiny bit and the Laserbeak figure inside the chest pops out, pushing the spring loaded panel in front down! It is a very dramatic action and it looks great. The Laserbeak figure sculpt is great. He looks very similar to the G1 cartoon model complete with an angled head leading to a hooked beak in front, wings that have "V" shaped details on them and cannons mounted on the back. The only bummer? This figure is not a separate piece, but rather it is physically attached to Soundwave. Still, it is a very dramatic feature and I found myself liking it a lot more than I had originally expected! To reset the feature, push Laserbeak in until it clicks into place.
Transformation to Vehicle Mode:
Straighten out the arms and legs.
Push the lower legs together.
Swing the light grey panel on the shoulder cannon piece open, swing it around so it covers the robot head, then push the panel back in place.
Swing the waist/hip section with the legs back.
Swing the arms back.
Swing the arm panels down and push the tabs on the arms into the corresponding slots on the bottom of the vehicle.
Swing the lower legs up to cover the thighs and form the front of the vehicle.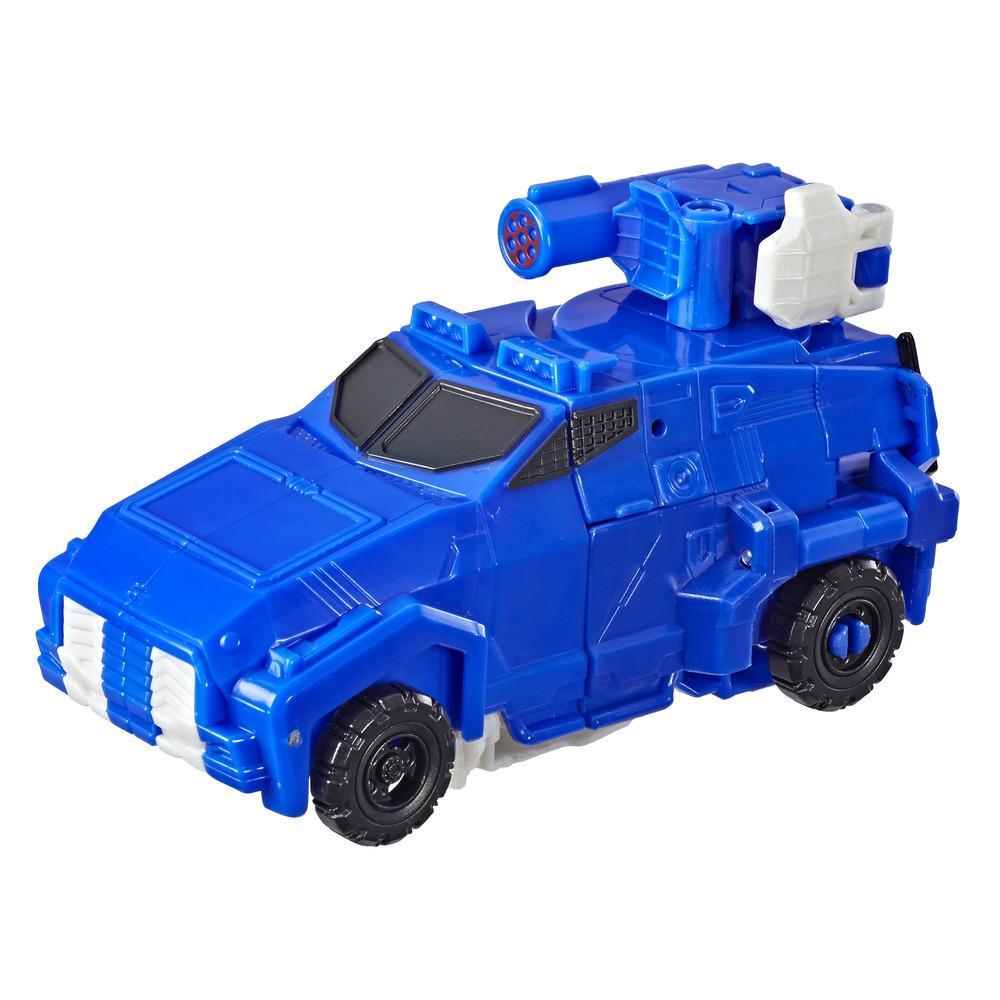 Vehicle Mode:
Over the years Soundwave has taken on many alternate modes. These include powerful looking ground vehicles. Examples include the "Fall of Cybertron" Soundwave from 2012 and the Warrior Class figure from "Robots in Disguise". This time out he transforms into a futuristic looking combat truck. The front end has a hood that angles up to an angled windshield. The sides look like they have plenty of armor on them and even cages over the side windows. His shoulder cannon is set on top of the vehicle and his "tape deck" chest section winds up on the back of the vehicle. That said, in a fun bit of sculpting, there is a rectangular detail on his hood which looks just like his "tape deck" window. I like this vehicle's sculpt. It looks powerful, yet sleek at the same time which fits the character very well.
This mode mostly shows off blue plastic, with the windows painted black. Aside from deco carrying over from the robot mode, there is not much deco here at all and that is a real shame. There are a lot of nicely sculpted details and painting some of them on the sides would have really helped them pop out against the darker blue color.
Final Thoughts:
Despite not having the greatest deco, I cannot help but like this figure. It is a nice G1 homage and it's fun to play with. Recommended, especially if you can get it for a couple bucks cheaper than the $14.99 average price.
Pros:
Good sculpt with lots of detail.
Good articulation (compared to Wave One Warrior Class figures).
Fun action feature.
Cons:
Needs more deco in both modes, especially to help bring out some of the sculpted detail.