11/05/21
General Information:
Release Date: January 2019
Price Point: $14.99 (Varies by retailer)
Retailer: General Release (Target, Walmart, Amazon etc.)
Accessories: None
*Note: The background used in these images were provided to BWTF for review purposes by Complex Bases.
*Images and text below from Amazon.com:
"Picture this: me, on Earth, still cooler than everyone this side of Optimus Prime, but I've got zero memories. Now I'm on a mission to recover my memories and discover all of my awesome powers. I'll have to battle Decepticons, outrun an explosion or two, and be heroic- basically, I'm in for one epic ride across the Cyberverse."
-- Bumblebee
Easily convert and attack with Transformers Cyberverse Action Attackers toys! Simply convert Prowl from vehicle to robot mode in 9 steps. The last step of conversion activates Prowl figure's Jetblast Action Attack move! Once converted, move can be repeated through easy reactivation steps.
Kids can collect other Action Attackers figures, each sold separately, to discover the signature attack moves of favorite characters from the Cyberverse series -- one of the best ways to introduce young kids and new fans to the exciting world of Transformers!
Transformers and all related characters are trademarks of Hasbro.
Includes Prowl figure and instructions.
5.4-INCH PROWL FIGURE: 5.4-inch Warrior Class Prowl Action Attackers figure inspired by the Cyberverse animated series. Makes a great gift.
SIGNATURE PROWL ATTACK MOVE: Convert the heroic Autobot Prowl to activate Jetblast Action Attack move. Fun attack move can be repeated through easy reactivation steps.
2-IN-1 TOY: Easy conversion for kids ages 6 and up! Simply convert Prowl figure from robot to cop car mode in 9 steps. Please note that since Transformers toys are made for children, some parts are designed to detach if play gets too rough. That way, the pieces can be reattached without damaging the toy.
G1-INSPIRED CLASSIC CYBERVERSE CHARACTER: White and blue Prowl toy designed to look like his classic police car alt mode. Inspired by the military strategist from the Transformers Cyberverse cartoon, as seen on Cartoon Network and YouTube.
TV-SHOW-INSPIRED: Transformers robots are giant battling bots from the planet Cybertron. The Autobots and Decepticons traveled from Cybertron on their spaceships, the Ark and the Nemesis, in pursuit of the powerful Allspark. Each Transformers robot has 2 modes. They convert from robots to vehicles such as cars, trucks, jets, and tanks! Each bot has a special ability known as an Action Attack move; these signature attack moves activate in battle! In season one of the Cyberverse television series, Windblade helps Bumblebee connect to the Hivemind to recover his lost memories.
Figure scale: 5.4 inches
Ages 6 and up
Warning: Choking Hazard - Small parts may be generated. Not for children under 3 years.
In late 2017 it was revealed that a new Transformers cartoon would be replacing "Robots in Disguise". The series focuses on Bumblebee with partial amnesia attempting to regain his memories. A blend of G1 and modern characters combined with a more kid-friendly animation style results in a show that leans more towards a younger audience than even "Robots in Disguise", something which is reflected in the toy line. "Cyberverse" first started showing up at retail around late 2018 and continued into 2019.
Prowl is a character that has popped up again and again in Transformers fiction and toy lines since Generation One. His "Cyberverse" incarnation is based heavily on his G1 counterpart.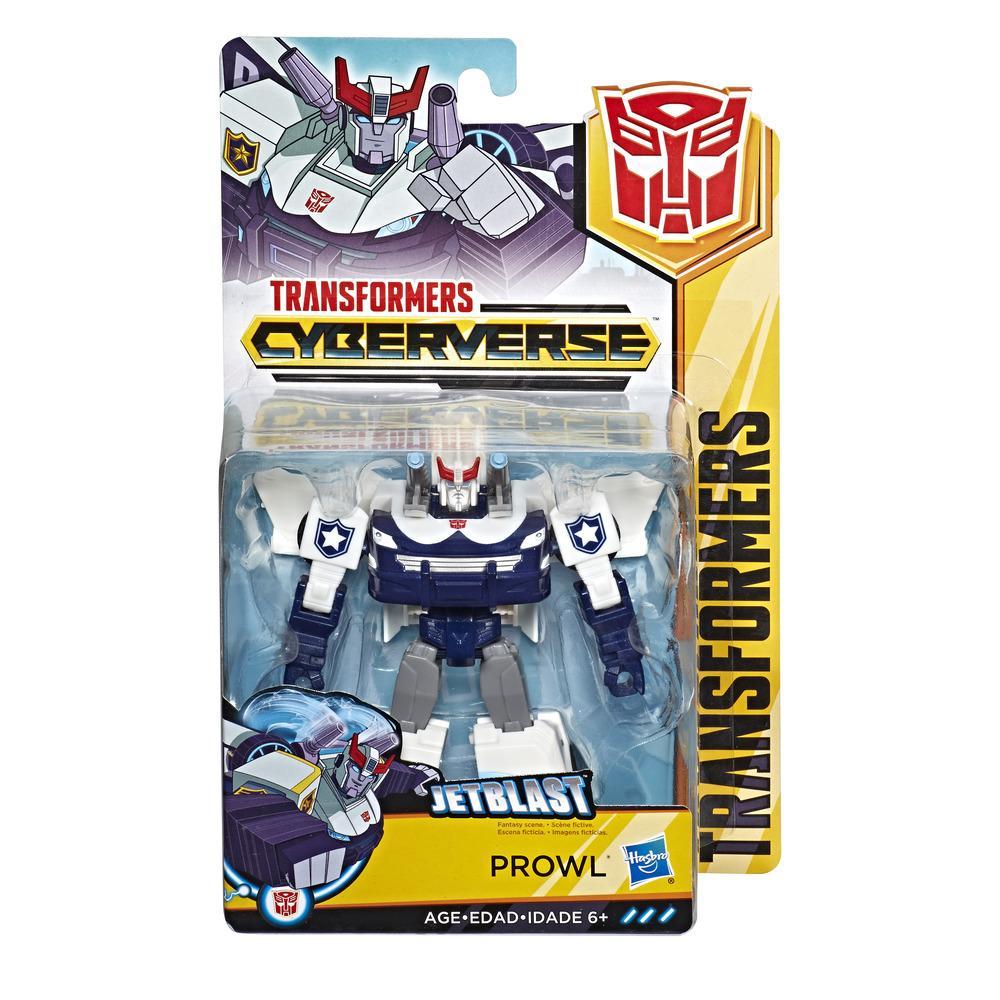 Packaging:
Warrior Class "Cyberverse" figures are packaged on bubble cards. The cards have a new design which takes cues from more recent Transformers packaging. There is still a vertical "Transformers" logo on the right side, above it is a symbol (Autobot or Decepticon based on the character) and the character art is at the top of the packaging with the "Cyberverse" logo under it. Perhaps the most distinctive part of the packaging design are the colors, which utilize yellow and light blue helping them stand out against the black and red colors used for "Generations" packaging on shelves. The back of the packaging features the figure with its action feature called out. In Hot Rod's case he has a "Jetblast" feature (which is a funny name for an Autobot who transforms into a car). The packaging also calls out his cosells (including Hot Rod and Soundwave) and his transformation is listed as having 9 steps.
The insert on the packaging notes a recommended age of "6+" which is important to keep in mind with this Class of figure. Contrast that with a "Generations" Deluxe (such as Jazz or Sunstreaker) which have recommended ages of 8+. This age recommendation is more along the lines of "Robots in Disguise" Legion Class figures such as Bisk.
Robot Mode:
The first wave of "Cyberverse" Warrior Class figures left much to be desired, partly because the expectation of what a "Warrior" Class figure is was set by the "Robots in Disguise" line back in 2015. In that line, "Warrior" was meant to be a "light" version of Deluxe Class figures with a focus on transformation to satisfy older and younger fans at the same time. It represented a good middle ground and I was a huge fan of the class. However, with "Cyberverse", the Warrior Class became just another gimmick-centric Class of figures which sacrificed everything from articulation to deco in service of gimmicks that were less than impressive.
Prowl represents a near complete return to form for the Warrior Class. While he does have a gimmick (more on that in a bit), the gimmick does not interfere with the articulation or aesthetics of the figure and that is a big deal for a line that started fairly rough.
Prowl's design is structurally similar to his G1 counterpart. The front of the car becomes the chest, the front wheels wind up behind his shoulders, the car doors form "wings" on the back and the rear of the vehicle becomes the legs. When you activate his gimmick, he even winds up with two shoulder cannons!
There are lots of small details on this figure that call back to G1. The head has "horns" extending out of the central crest with circles on the sides of the "helmet" section. The waist/hip area has a triangle in the middle with "Z" shaped designs flanking it and the feet have rectangular details on them based off the rear lights on G1 Prowl's vehicle mode.
Prowl is cast in white, silver and metallic dark blue plastic. The blue plastic in particular is really nice, especially if you shine a light on it. The other colors work well as callbacks to the character's G1 counterpart.
The paint colors on this figure include silver, light blue, metallic dark blue and red. The silver is found on the face and grille. The light blue is used on the eyes and lower legs. Meanwhile the dark metallic blue is used heavily on the chest, forming the familiar pattern with a point in the middle. Another nice touch are dark blue "shields" with stars painted on the shoulders. This is a direct callback to stickers on G1 Prowl. The finishing touches are red details on the "horns" and an Autobot symbol on his chest. While I would have loved to see more deco on this figure, I cannot deny there is a good amount of paint on him.
There are seven points of articulation on this figure. Nine, if you want to count the feet. This includes ball joints on his shoulders and hips. I am very happy with the articulation on this figure given how limited it was on the Wave One Warrior Class figures. The gimmick in this figure involves the shoulder blasters. Push the chest panel down and the blasters swing over the shoulders and wind up deployed on either side of the head. It works very smoothly and you can easily lock them back into position by pushing them back. This is a perfect example of how to work a gimmick into a figure without interfering with its articulation or aesthetic. Finally, each fist has a 5mm port, allowing Prowl to hold weapons from other figures.
Transformation to Vehicle Mode:
Straighten out the arms and legs.
Point the feet down.
Push the lower legs together.
Swing the chest up.
Swing the doors back.
Swing the lower legs up and connect them to the section with the lightbar and windshield.
Swing the arms back, then fold them in under the vehicle.
Vehicle Mode:
Prowl's vehicle mode reminds me of a Ford Police Responder. It is not an exact match, but it has a similar round shape and looks almost like a car you would see rolling on the streets in real life. To officially make him a police vehicle, Prowl has emergency lights on the top of the cabin section. Interestingly, the vehicle mode only has two doors while most police cars have four.
This mode mostly shows off white plastic with plenty of metallic dark blue paint. The windows are painted light blue while red and blue are used for the light bar. Most of the details in this mode could be seen in robot mode so there are not a whole lot of surprises. Overall the vehicle mode looks good.
Final Thoughts:
While he is still a slight step down from the Warrior Class figures of "Robots in Disguise", this is perhaps the one of the best Warrior Class figures so far in the "Cyberverse" line and I hope it is indicative of the direction future waves of Warrior Class figures will go in. Recommended if you are into "Cyberverse" figures at all.
Pros:
Cool sculpt that evokes the original Prowl very well.
Good articulation (compared to other "Cyberverse" Warrior Class figures).
Gimmick works well and does not interfere with articulation or the figure's aesthetics.
 
Cons:
I would have liked the figure to have included a weapon to hold.
The figure has plenty of deco, but a bit more on smaller parts like the front of the feet would have been cool.